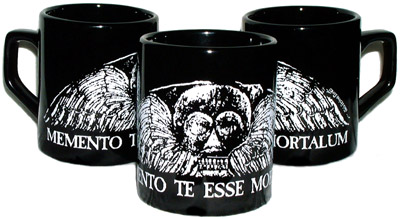 Gravestone Coffee Mug
$7.95
Send this site to a fiend
Now we've gone and done it! We took our most popular gravestone design and had it printed onto a high quality, 10 oz black ceramic coffee mug.
The winged skull, with it's Latin message: Memento Te Esse Mortalum (remember you are mortal, if you aren't fluent in Latin) is wrapped around this highly unique item. The design size is: 7 1/2" x 2 3/4" so that the tips of the wings will be very close to the handle of this great gift item.
An absolute must for those who love to have their morning caffeine in something a little unusual, and a steal at $7.95.
Order information:
---